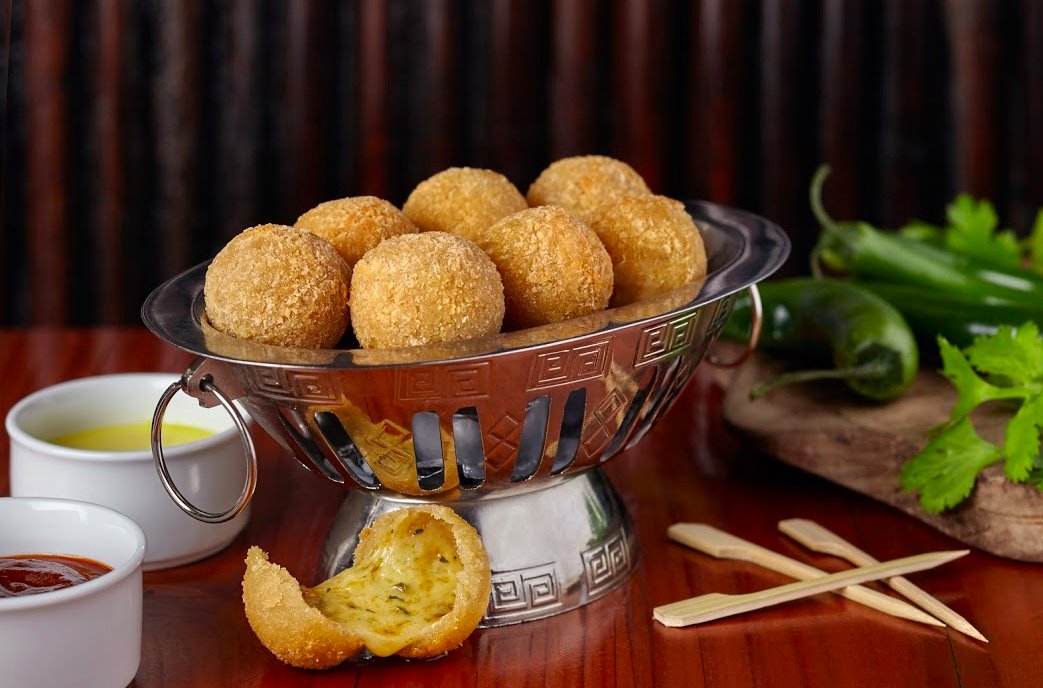 JALAPENO CHEESE BALLS
Trader Vic's Restaurant Recipe
4 cups grated Cheddar cheese (1 pound)
1 cup grated Emmentaler cheese (4 ounces)
2 tablespoons minced fresh cilantro
1 tablespoon minced jalapeno, or to taste
1/4 teaspoon cayenne pepper
1/4 teaspoon freshly ground black pepper
vegetable oil, for frying
1 cup Chinese Batter (recipe follows)
1 cup plain dry breadcrumbs
Savory Dipping Sauce
Trader Vic's Hot Mustard Sauce
Line a baking sheet with parchment paper. In a large bowl, combine the Ceddar, Emmentaler, cilantro, jalapeno, cayenne, and black pepper. Using a fork, toss and stir until thoroughly mixed. Use your hands to roll about 2 tablespoons of the cheese mixture into a ball, packing it tightly. Transfer to the baking sheet and chill for at least 2 hours or overnight.
To deep fry the cheese balls, heat 3 inches of oil to 375 degrees in a deep, heavy pan over medium high heat. Dip the cheese valls into the batter and allow any excess to drip off. Roll in the breadcrumbs until lightly coated. Carefully lower the cheese balls into the hot oil and cook, turning once, until they are golden, about 3 minutes total. Using a slotted spoon, remove the cheese balls and drain on a wire rack set over paper towels.
Pile the hot cheese balls onto a napkin lined plattedf or basket. Serve immediately with dishes of dipping sauce and hot mustard. Makes 24 cheese balls.
Chinese Batter:
2 cups all purpose flour
1 cup cornstarch
1/2 tablespoon baking powder
1/2 teaspoon kosher salt
1 1/2 to 2 cups water
2 tablespoons vegetable oil
In a large bowl, combine the flour, cornstarch, baking powder, and salt. Whisk in 1 cup of the water to make a thick, smooth paste. Slowly add the remaining water, whisking constantly, until the batter is the consistency of heavy cream (
you may not need all 2 cups of the water
). Stir in the oil. Use immediately.
Savory Dipping Sauce:
2 tablespoons vegetable oil
1/2 small yellow onion, minced
2 cloves garlic, minced
1/4 green bell pepper, minced
1 tablespoon grted fresh ginger
1 tablespoon sugar
2 teaspoon dry mustard powder
2 teaspoon chile powder, or more to taste
1/2 teaspoon freshly ground black pepper
1 (3 oz.) can tomato paste
1 cup water
1/2 cup cider vinegar
1/4 cup Worcestershire sauce
3 tablespoons soy sauce
In a small saute pan heat the oil over medium high heat. Add the onioon and saute until translucent, about 3 minutes. Add the garlic, bell pepper, and ginger and saute until tender, about 3 minutes. Sprinkle in the sugar, mustard powder, chile powder, and pepper and cook, stirring frequently, until fragrant, about 2 minutes. Add the tomato paste, water, vinegar, Worcestershire sauce, and soy sauce. Cook, stirring frequently, until the mixture comes to a boil. Lower the heat and simmer until the sauce has thickened, about 3 minutes. Allow to cool. Refrigerate, covered, for up to 2 weeks. Makes 2 cups.
Trader Vic's Chinese Hot Mustard Sauce:
1/4 cup Chinese mustard powder
1/4 cup rice wine vinegar
1 tablespoon water
1 teaspoon dark sesame oil
1/2 lime, juiced
1 tablespoon honey
1 tablespoon grated ginger
3/4 cup peanut oil
Whisk together mustard, vinegar, water, sesame oil, lime juice, honey, and ginger. While whisking, drizzle in the peanut oil.