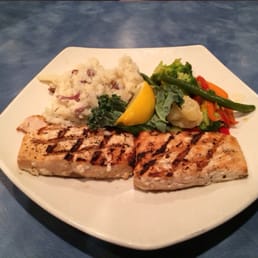 PAN SEARED SALMON
Dick Clark's American Bandstand Grill Recipe
Serves 2
8 ounces fresh salmon
1 tablespoon oil
pinch salt
pinch pepper
1/4 cup fresh baby spinach
1/2 cup diced Roma tomatoes
1/2 cup sliced mushrooms
1/2 cup white wine
1 tablespoon butter
Heat oil in pan, dust salmon with salt and pepper. Place in hot pan, skin side down. Cook about 5 to 7 minutes. Add white wine and cook for additional time (
until its as done as you like
). Take out salmon, make sure wines reduced, and add spinach, mushrooms and tomatoes cook until spinach just wilted. Add butter; toss. Plate the salmon, then pour the veggies and sauce over.
CARIBE RICE PILAF
Dick Clark's American Bandstand Recipe
2 tablespoons butter
1/4 cup diced yellow onions
2 cup dry white rice
3 1/2 cups water
1 chicken bouillon cube
1/4 teaspoon white pepper
1/4 teaspoon celery salt
1/4 teaspoon cumin
1/4 teaspoon chopped fresh garlic
1 cup cooked black beans (canned)
1/4 cup diced green onions
1/4 pound shredded carrots
Place butter in a rice pot; add diced yellow onions and cook until translucent. Add rice and mix together, cook until rice is almost brown. Add water, bouillon cube, white pepper, celery salt, chopped garlic, and cumin; bring to a boil. Cover with foil. Lower heat and stir rice occasionally until rice is tender. Remove from heat, fluff rice with a fork to release all steam to stop cooking. Mix in shredded carrots, diced green onions and washed and drained black beans. Serves 4.